Video Production and Post-Production
Service Description
The Discovery Commons has a full-service video production facility with a creative team that can help turn a client's vision into reality. We will work with the client to develop a script for the video that will meet their needs and budget. The video footage will be shot with digital HD cameras, professional lighting and microphones and then undergo post production. Once the video is complete, it will be published to the required format. Hosting options are available if necessary.
Production Packages for DC site.pdf
(2.46 MB)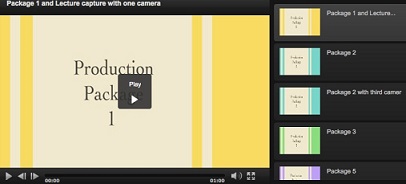 Click to view a playlist of video examples and the production packages used for each
Some of our tools include:
HD cameras
Professional microphones
Professional lighting
Green screen for changing backgrounds
Recording studio
Video switcher for multiple camera and computer inputs
Teleprompter for reading a script while looking at the camera
Some of our production services include:
Developing a script
Storyboarding (a paper-based visualization of the video)
Shooting with 1, 2, or 3 cameras
Computer screen recording
Some of our post-production services include:
Editing
Colour correction
Sound correction
Royalty-free music
Introductory titles with motion
Text-on-screen
Pricing
Based on the Discovery Commons hourly rates, we can provide an estimate after a consultation to determine the scope of the work.
Service Availability
Discovery Commons business hours
Supported Hours
Discovery Commons business hours
Support Contact
IT Service Categories
Service Providers