PREPARATION FOR DOING A WEBCAST IN THE DISCOVERY COMMONS' STUDIO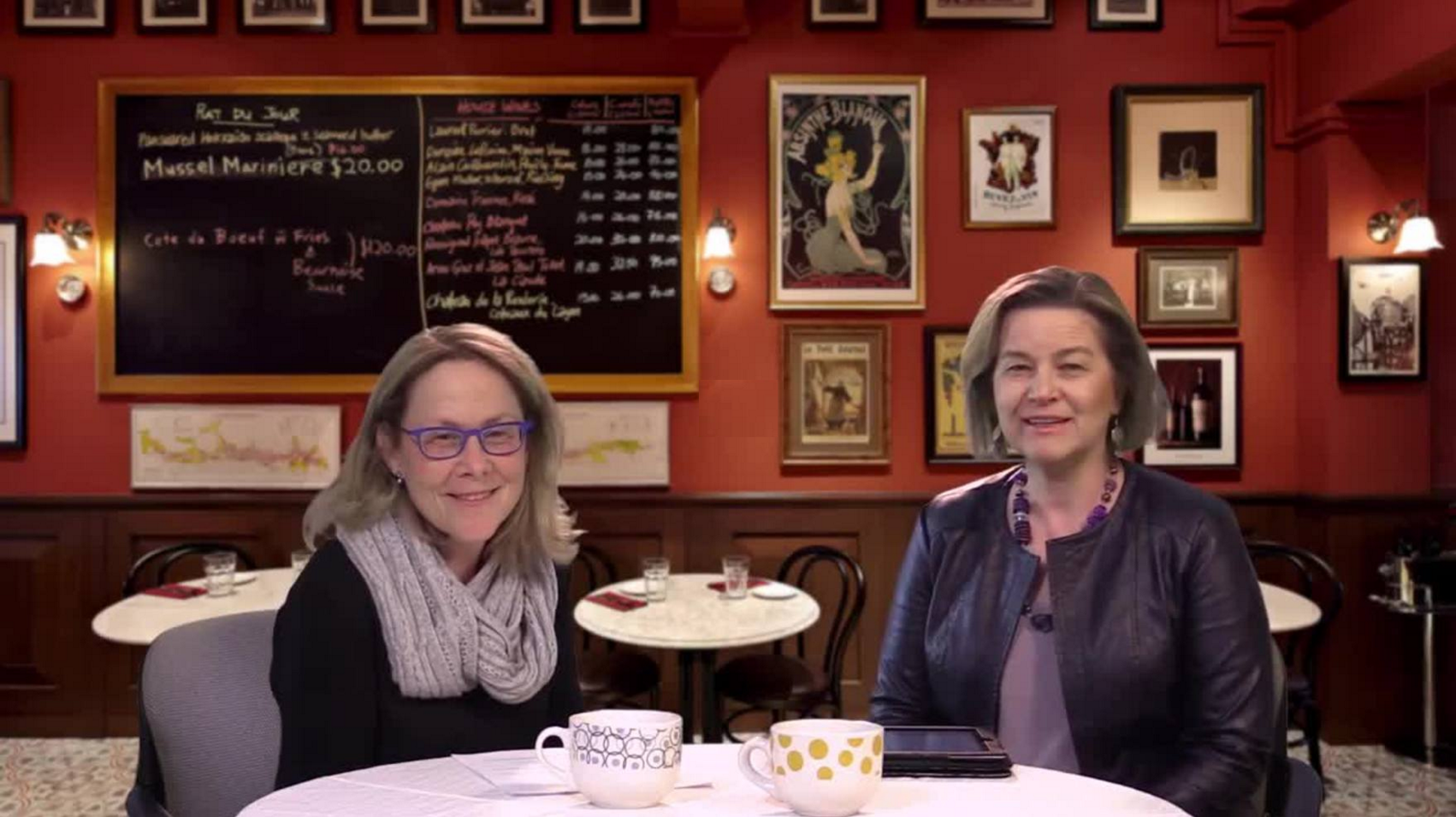 Webcasts can be an effective way to communicate ideas or information synchronously to a large number of people. Webcasts can also be recorded and posted shortly after the live session for viewing by anyone not available at the time of the live session.
During the webcast, remote participants can see and hear the webcast hosts, but the remote participants cannot be seen or heard. They can, however, use a chat to communicate amongst themselves and to ask questions or share comments with you, the hosts.
This page provides some tips for planning and presenting a successful webcast, as well as information on what to expect when you come to Discovery Commons to host the webcast. If you have questions, need support, or would like to discuss best practices, contact Janet Koecher, Educational Technologist
The Environment (MSB 3283A)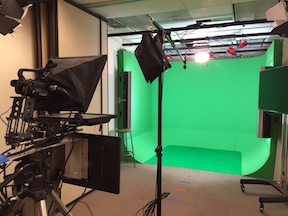 Your webcast will take place in a small studio that has video lighting, cameras, and microphones.
You will be seated or standing in front of a green background, which will be replaced with a different background on the video
At least one technician will be in the studio with you taking care of all of the technical considerations
It does get warm in the studio, so bring water if you wish
Click for maps and directions to the studio
Consider the following when planning your webcast. These decisions should be made and communicated to DC before the day of the webcast. 
What kind of background would you like to use? Consider the audience and the objectives of the webcast. Some options are:

a neutral background, like a library or even just a colour gradient
an office or classroom
a specific location

Will you be standing or seated?

if seated, will you use a table?

Will you be incorporating a Powerpoint or other visual aides?
How many people will be on camera?

three is the maximum in our studio

Are you accepting questions and comments from online participants via the chat function? If so:

will you take these throughout or just at the end? You should announce this at the beginning of the webcast
you should have a moderator (this person can be on or off camera) who will monitor the chat and answer appropriate questions or feed them to the presenter. (click to see more on this in the During the Webcast section of this page)
create some questions or dialogue that you can fall back on if there are no incoming questions. This is important to ensure that there is no "dead space." Think of radio or television call-in shows: there is never silence; the on-air person always fills any gaps with relevant commentary

Are you recording the webcast?

if so, where will it be hosted and posted? Click for information on hosting
you can avoid delays in getting the recording available online if you provide the hosting and posting information before the webcast takes place

How will you let your participants know about the webcast? 

notices can include Blackboard Announcements, emails (blasts or more targeted), posters, and website postings
in this notice you should include the url that participants will use to access the webcast (we will supply this to you)

we will also provide some basic instructions to pass on, such as to log in a few minutes before the start time of the webcast to adjust audio and ensure they can see the video (a video with music will run before the webcast for this purpose).
On-Camera Tips
This is a live event; conduct yourself as you would in front of a live audience
Turn off your phone
Avoid tapping, coughing, rustling of paper, as this is amplified by the microphone to the remote participants 
You will likely be addressing the remote participants, so you should be looking at the camera when you speak
Avoid looking around the studio while you are on camera
As much as possible, reduce ums and ahs while you speak
If you are co-presenting, you may be shown on camera when the other person is presenting. Appear engaged in their presentation and avoid looking at your own notes for more than just a glance
Know Your Presentation
If you are giving a presentation, practise giving it out loud to NOBODY before you come in for the webcast. Presenting to an empty room with a camera is quite different than being in a room full of students: no feedback, no other noises, no interruptions
Practicing should include both your verbal component and the visual component. You might know what you would like to say, but saying it at the same time as navigating your computer applications might take a bit of time to perfect
A teleprompter can be used to allow you look at a script while looking straight into the camera, but this can look awkward and should only be used if you feel you cannot give the presnetation without it. We do not recommend reading a script from a teleprompter
If you are annotating as you present, practice where in your presentation you will do this, and what you will do: e.g.: circles, arrows, text reinforcement
Hair, Make up, and Wardrobe
Unfortunately, we don't have a budget for hair, make up, or wardrobe, but we do have a mirror. Here are some tips on what to wear:
If you normally wear make up, wear the same amount as you usually do
Avoid bright, reflective jewelry
Do NOT wear green. The process by which the green-coloured background is replaced is by removing anything from the shot that is green-coloured; if you are wearing green, this will also disappear
You will be able to see the final composited image of yourself, the background, and the powerpoint, on a monitor before you begin
You will likely be captured by the camera from about the waist up, but it could be your whole body. If this is something you would like to know in advance, check with janet.koecher@utoronto.ca 
Do NOT wear clothing with small patterns, such as tight stripes or herringbone, as this will shimmer on the video (Moiré effect) and be distracting (see the video below)
Getting Set Up
If you are presenting a Powerpoint or other visual aide, bring these on a USB drive
It will take about 15 – 30 minutes after you arrive to complete the technical set up. 

if this is your first time doing a webcast with us, please arrive a full 30 minutes before the webcast's scheduled start time
if you do regular webcasts with us and we have all of the information set out in the Considerations in Planning the Webcast section on this page, please arrive at least 20 minutes before the webcast's scheduled start time

During this time, you may be asked to stay in front of the camera
You can use this time to go through your presentation
You can also talk to the technician at this time to communicate anything particular about the webcast, or ask questions
The technician may ask for a sound check, during which you should say a sentence or two in your normal presentation voice
Online participants will see a video with music that informs them that the webcast will begin shortly, and to use the video music to ensure that their audio is turned up.
At times, the microphone in the studio may "go live" while the technician is setting up and the voices in the studio may be broadcast. For this reason, don't have private conversations in the studio during this time
Starting the Webcast
The technician will be seated behind a half-wall partition for the duration of the webcast
The technician will guide you through the technical considerations of the webcast
At the published time of the webcast (and presumably, when you and the technician are ready to go), the technician will point to you

this means that the webcast is now live
it is your cue to begin
During the Webcast
Look into the camera.
Show enthusiasm for the topic
If you are taking questions from participants, the moderator or presenter should state the question from the chat so that all participates can hear it prior to the presenter answering the question;  ie "one of participants has asked a really good question: ...."
A teleprompter can be used so you can see your slides or questions from remote participants on a screen in front of the camera, so even while you're reading these, it appears as if you're looking into the camera
When you are finished, maintain your eye contact with the camera until the technician says, "We are offline.". That is, do not laugh, vocalize, roll your eyes, say "whew!" etc, until you hear that.